Department of Biochemistry
About the Department
&

the Subject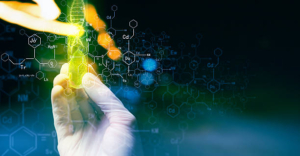 Biochemistry is a fascinating subject helping us to understand ourselves in Biochemical and Molecular terms. Biochemistry makes significant contributions to the fields of cell biology, physiology, immunology, microbiology, pharmacology, and toxicology, as well as the fields of inflammation, cell injury, and cancer. These close relationships emphasize that life, as we know it, depends on biochemical reactions and processes. Biochemistry is rapidly expanding, becoming one of the most influential areas of science. Combining the core tenets of biology and chemistry, the field plays a huge role in the development of novel new scientific approaches. Without the ongoing flurry of scientific breakthroughs made by biochemists, we wouldn't have the precise knowledge to create the vital drugs, therapies and diagnostic tools that are used every day.
All life on Earth depends on biochemical reactions and processes. By integrating this scientific knowledge with practical strategies to maintain health, understand diseases, identify potential treatments, and enhance our understanding of the origins of life on earth, Biochemistry is and will remain one of the most important areas of science.
Students who wish to pursue their studies in the field of Biochemistry need to have dedication, patience, an inquisitive mind as well as good skills in observation. They are also required to have team spirit as they are needed to work as a team of students. Given this, they are sure to enter into a very bright future in their careers following the completion of their studies.
The Department of Biochemistry is one of the frontrunner institutes in imparting education in Biochemistry for obtaining B.Sc Biochemistry at the college level. Since the early days of its establishment in the college, the Department is imparting quality education to its students in this field. The Department has produced hundreds of graduates and a good number of them took Biochemistry in their PG programme and have taken up different research and academic programmes run by reputed institutes Nationally/Internationally.
To understand the fundamental chemical principles that govern complex biological systems in different forms of life.
To achieve academic excellence in Biochemistry of imparting in-depth knowledge to the students, facilitating research activities and cater to the ever changing industrial demand and societal need.
Recent Publications by the Faculty