About the department
&

the subject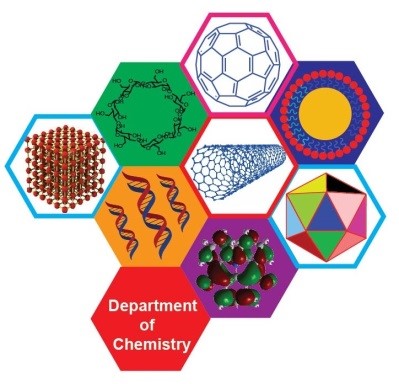 Department of Chemistry is one of the oldest departments of the college. It was established to meet the aspirations and expectations of the students of this region. Currently headed by Prof. Fayaz Ahmad Bhat, the Department of Chemistry offers a vibrant atmosphere to the Students and Faculty as well to nurture the spirit of scientific inquiry and to acquire subject-based knowledge in a highly encouraging environment. Department of Chemistry has well-furnished and well-equipped laboratories with ample chemicals required for conducting regular practical classes as well as research activities. The labs are equipped with instruments like UV-visible Spectrophotometer, Conductivity meter, pH meter, Reflectometer, Polari-meter, Centrifuge Machine, Digital Balance, Thermostats, etc. Furthermore, the laboratories have been recently equipped with Smartboards which make Teaching as well as learning process very impactful. 
Chemistry is known as the Central Science and students who Majors in Chemistry will leave college with knowledge and advanced science concepts. During the course, students would develop Technical and Analytical Skills such as Analysis & Problem Solving, Time Management & Organization, Team Work, Self-confidence, etc. which will be of great help to the students in every aspect of life. Chemistry is an Interdisciplinary subject as it overlaps with many other subjects, thus students can acquire skills that are at the interface of Chemical, Biological and Material Science. A degree in Chemistry makes you highly employable: not only does it provide you with quantitative and practical skills for scientific and technical roles, but it also develops your transferable skills such as problem-solving that are valued by all employers. After graduation, students can get enrolled in PG courses such as M.Sc. in Inorganic, Organic, Physical, Analytical, Polymer Science, Forensic Science, Material Science, Biotechnology, Nanotechnology etc.
Build foundation for excellence by providing quality education that enhances intellectual capabilities and career opportunities.
To provide quality education to the students
To nurture their talent
To promote intellectual growth and shape their personal development
To serve humanity through the creation of multi-skilled and socially responsible citizens
Recent Publications by the Faculty